At West Side Physiotherapy we put the patient first.
Located at the heart of Balmoral, we aim to provide the best professional care through a holistic approach in assessing, diagnosing and effectively treating patients who are recovering post-op, coping with musculoskeletal injury or seeking pain relief.
We are a team of athletes-physiotherapists who have personal and professional experiences with sports-related injuries and pain. But we are more than a physiotherapy clinic for sports people. We combine extensive knowledge of the human body with specialized expertise in manual therapy to restore motion and reduce pain. We value the trust placed in us, and patients can be assured of the best possible care through evidence-based diagnoses and interventions to support rehabilitation.
By working closely with orthopedic specialists, family medicine doctors, and other sports professionals, we make it our goal to facilitate healthy movement patterns and improve the quality of life of each patient.
You can trust us here on the West Side.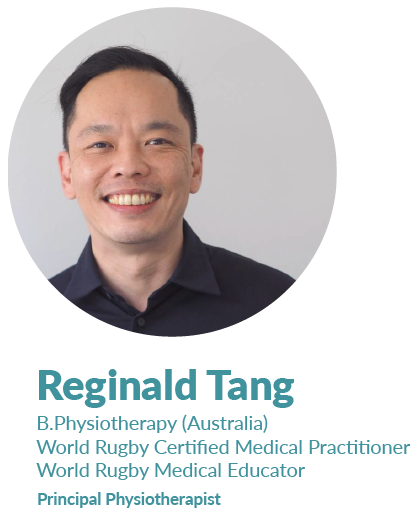 Reginald Tang, or Reggie as he is better known, graduated in 2004 with a Bachelor of Physiotherapy from the University of South Australia.  He worked in Australia for 5 years at a public hospital, before moving into private practice for 4 years while working as a team physiotherapist with both an Australian Rules football team and a university soccer team.
He returned to Singapore in 2009 and worked in private practice, then at a private hospital as Chief Physiotherapist / Head of Department. 
He continued his involvement in the local sports scene as a team physiotherapist for Oldham Rugby Football Club which he continues to date, and as a team physiotherapist for the Singapore Rugby Union.
He was a physiotherapist to the 2014 Singapore U19s, which won promotion to Division 1 in the Asian Rugby U19s Rugby tournament in the Philippines.  He was also the senior team physiotherapist for the National Men's Rugby 7s team for the 2015 SEA Games, for the 2017 edition in Malaysia, and the 2019 edition in the Philippines.
He supported the National Men's 7s rugby team for the Asian Rugby 7s series in 2015 and 2016, the Olympic Rugby 7s Asian Qualifiers in 2015; and the South East Asian 7s in 2016 and 2017.
He has also served on the pitchside medical team for the HSBC World Rugby 7s series, the ASEAN University Games, Touch Rugby World Cup Men's Open Team, and World Club 10s Rugby.
An avid sportsman himself, Reggie has also experienced various injuries and undergone a few surgeries. As a patient, he understands the need to empathize, empower and regain one's independence.  
From his exposure to evidence-based professional development programs, he believes that there is no one methodology that fits all. As such, he offers and utilizes a wide range of treatment techniques to provide the best patient care.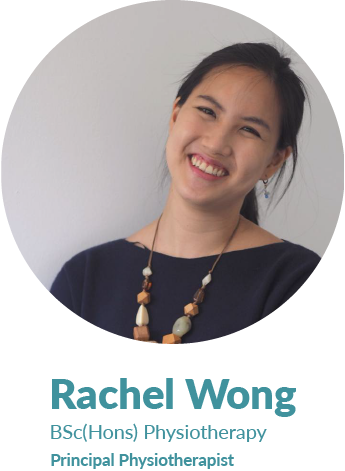 Rachel obtained her Diploma in Physiotherapy from Nanyang Polytechnic, Singapore, and subsequently, a Bachelor's Degree (1st Class Honours) in Physiotherapy from Glasgow Caledonian University, UK. After completing her studies, she joined the private physiotherapy sector to pursue her passion for sports rehabilitation and treating musculoskeletal injuries.
 
Among her friends, Rachel is known for being someone who excels at sports. At a younger age, she represented her schools in Badminton, Football, and Ultimate Frisbee. Rachel also enjoys CrossFit and high-intensity interval training.
 
While competing in football, she became fascinated with the way physiotherapy was able to help her injured teammates return stronger than before and become better athletes. Her experience in an outpatient sports setting in the UK helped consolidate this interest and affirmed her aspiration to focus on this area of physiotherapy.
 
Rachel believes in stepping away from the simplified method of treating symptoms and looking at the whole person for a holistic, multi-faceted, and more effective resolution to the problem. Rachel's extensive understanding of the anatomy of the body and how everything is connected fuel her interests in movement dysfunction and postural impairments, allowing her to better locate the source of pain and design individualised programs that prevent recurrent injury, resulting in better long-term results.
 
Rachel is qualified in Integrated Dry Needling and Kinesio taping and combines these with manual techniques as treatment. She has developed a special interest in working with the fascia, connective tissue in the body that is often neglected yet critical in communicating mechanical information to the entire body. Rachel loves to help others and is determined to help all patients return to their daily routines and sporting activities as soon as possible.